...no. Badder.
Shad roe
.
Last week, we added a new dish to our repetoire: shad roe.
That's a good picture of shad roe before it's cooked.
Here's
our
picture of our raw roe marinating in soy sauce and ground black pepper:
We were going to do a coated, pan-fried recipe with capers (apparently this is a pretty popular way to cook it), but decided against it after my mom suggested a simpler Chinese way with which I am quite familiar (same way she prepares pan-fried fish!) and required less oil. Per the suggestion of mah mama, you marinate the roe, pan fry it, then set it aside. Here's what the roe looked like when in the hot pan:
The roe shrank considerably pretty immediately. A note about our choice of pan: our flat pan has lost all its nonstick capabilities so we had to cook the roe in our nonstick wok-like pan instead. The roe shrank quickly and considerably once it hit the hot oiled pan and it loudly and scarily started popping while it was cooking (I imagined the individual eggs contained within the sac to be like corn kernels popping). I soon learned that separating the two lobes of roe made flipping it a lot easier. Was my pan too hot?
Here's a picture of the roe just about done:
After cooking the roe, set it aside. Then saute the green onion and ginger and splash in some light soy sauce and sweeten with a bit of sugar. Then combine all of this with the roe.
We had the roe with a side dish of kale, 5-spice tofu, mushrooms, leeks and shallots - a loaded version of a dish that we eat at least three times a week, of varying ingredients, and for this special occasion, we splurged on white rice!
The roe turned out delicious. I enjoyed the livery taste and the mix of textures on our plates made for a wonderfully interesting bite. I doubted there would be enough roe for the both of us after it
shrank
but one lobe each was perfect. This meal reminded me of how getting the eggs out of a whole fish was like a prize growing up...lucky me, I just ate
only
the eggs!
You can read more about shad roe
here
and
here
and
here
.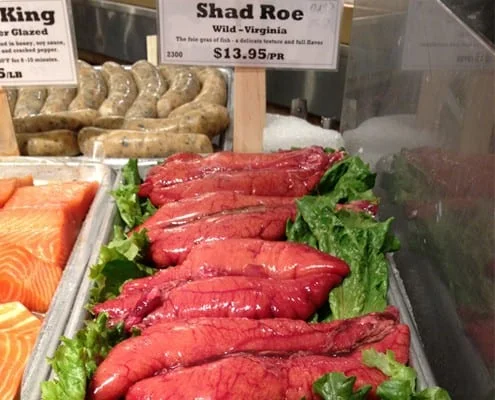 Our roe was cheaper at $9.99/lb from Wegmans.
(photo creds: first, last)