Last week, I did a post on the plethora of footwear options that make great alternatives to the tired, sloppy and gross flip flop. I would now like to move on to another all-too-familiar eyesore: the sneaker + business attire pairing.
I'm not sure what's worse, this or the flip flop. Seriously? Sneakers with your work clothes? But there are
so
many alternatives! Have you seriously given up? Have you tried flats? Brogues? What about Keds?? Even some Chucks would be tolerable! It's incredible how hard it is to find a decent picture of this faux pas online, especially when I see more women committing this eyesore of a fashion crime than not (this is, of course, when they're not wearing flip flops). There isn't even a lot of written material on this faux pas, though I did find
this blog post
on the topic, and it did make the #3 spot on
this Glamour list
of do's and don'ts on, funny enough, District style, with which I completely agree: "'Are you kidding? Unless you had to jog to work on the Beltway, sneakers and business attire are a
DON'T
to end all
DON'Ts
.'"
Aww. Look how happy that lady on the right is.
How in the world did this pairing become a normal thing to do? Why, when I wear my brogues, ankle boots or Chucks, do I get more crooked looks at my feet than someone wearing a pair of Saucony stability running shoes? Why don't men wear Jordan's with their slacks or suits? And if they did, wouldn't that warrant a strange look? I'd bet yes. How is it, then, normal when a woman pairs some dirty gym shoes with a skirt and blouse? And why, more often than not, are these sneakers white?
My own running shoes
that see about 20 miles a week (a little less the past couple of weeks), aren't even white. They're purple. I digress.
I understand some may be wearing them in transit, on the way to or from work, and that they may change into fab heels or other less comfortable shoes once they arrive at their destination. But still. Not a good look. I'm just having a hard time comprehending how this is awful look doesn't turn heads, and why women insist on wearing sneakers when so many alternatives exist. Allow me to show a few:
Okay, maybe I should have started a bit tamer, but since I'm wearing these very boots (in brown) as I write this, I thought I start here. These are my distressed boots that are oh-so-weather-appropriate for the rain today, and super comfortable. For warm, rainy weather, I think it's a perfect pairing with my
new Webster dress
. Comfortable
and
sensible? Sounds like a great alternative to sneakers.
Here are some brogues. (Yes,
they do look familiar
!) They pair well with pants or dresses or skirts or tights or leggings...the possibilities are endless. These, too, are completely appropriate for work and inclement weather.
If it's white you crave, the how about these cute eyelet Keds? Keds are undeniably comfortable and come in all sorts of colors, patterns, and toe shapes. They even come in slip-on. Not quite sure why anyone would stick to running shoes when there are so many possibilities with Keds alone. Although I don't think these look as good as darker colored alternatives (as shown above), they're still superior to those beat up Mizuno's.
As much as I
cringe
at these, they're probably super comfortable and I know they appeal to older ladies (although I believe, that you too, can do way better than these, abuelitas)...but even these orthopedic looking maryjanes are better than running shoes.
Ikat espadrilles?? Do I really need to say more? Summer perfection. They're neutral color, eye-pleasing pattern and comfort factor make them winners.
Okay, here's a more classic alternative that's work friendly and versatile. Simple flats. They go with anything and everything and are completely appropriate.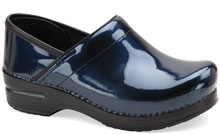 I just saw a woman wearing these at work, and when paired with cute striped socks and office pants, they're pretty cute...and I hear they're comfortable. All the doctors running around in them are enough of a testament to their comfort for me.
I couldn't sign off without a plug for ankle boots. My mom is amused by my recent love of them, as am I because I can't believe I didn't take to them until fairly recently. These would make fantastic alternatives to just about any of your business casual looks.