We had some 'Meet the Fockers'-type action this weekend in the Pittsburgh area, which means new things to eat for everyone. The first 'first' was found in a rest stop gas station beverage case en route to the Steel City:
Frozen Run Black Bear Mountain Birch - that's all it says on the front label. This plain, nondescript bottle containing clear soda was found amongst Mountain Dew and various brands of root beer. Below is the back label. (Check out its
Wiki page
- yes, it has one! - it's even more sparse!)
In case you can't read it, that's a summary on Pennsylvania black bears on the back label! There is no description of the product or manufacturer at all, and it was pretty obvious that this was a product exclusive to PA, which was what enticed me to pick up a bottle and drink it at 10am. Tasted like root beer.
Later that evening, we all went to our very first Lenten fish fry (...for all of us! including the PGH natives)! Apparently, it's
a thing
in Pittsburgh, and you know that if it's a 'thing' to anywhere, and if it's so popular there's
a Google map
of locations, my family needs to be there. Sorry, no pictures, but take my word that it was a great deal. We went to the one at
St. Mary of the Mount
. The busy, well-oiled operation was in the aged parish school's auditorium and staffed by who looked like volunteers and high school students. Upon arriving, you order from a pretty extensive menu and pay. The menu offered 3 main platter or sandwich options: fried fish, baked fish, or fried shrimp with your choice of fries, macaroni and cheese, stewed tomatoes, vegetable, or
haluski
, and included coleslaw, a roll and dessert; all for $9. Most of us opted for the very Pittsburghy haluski, except for G who got the stewed tomatoes. There was also a long list of a la carte items; we got a few orders of pierogis and one order of onion rings. The seafood portions were generous and everything else tasted either homemade or from a can, but it was good given the company, environment, and bottom line: it's a church and school fundraiser and a Pittsburgh Lenten tradition.
The rest of our weekend included a visit to
Pamela's
in Shadyside. We had to introduce my parents to le crepe pancakes. Oh those crepe pancakes...I dream of them when I crave carbs and syrup. In addition to the tastiest pancakes I've ever had, I had the hash and eggs.
(again, no pictures, but here's a representative one from Yelp, posted by a Hayley G)
To walk off our brunch, we headed to
the Strip
. At the Strip, we went to the unpretentious
Public Market
(where we picked up some honey, reading material, blueberry lemonade, and some local art) and walked the nearby .. um.. strip.. of shops and grocers, including the famous
Wholey's
market. It was a fantastic exploration of one of Pittsburgh's historic neighborhoods. Later that evening, we went to
Valozzi's
for an Italian dinner.
The next morning on our way out of Pittsburgh, we made our requisite visit to
Primanti's
for some cap 'n' cheese w/ fried egg, pastrami w/ fried egg and roast beef sandwiches.
Here's
a fun write-up of Primanti's to read if you want to
stare at more pictures
.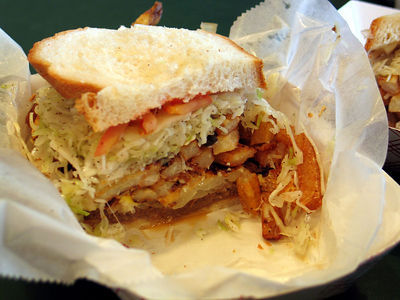 (photo cred: pulled from here, originally from MenuPages)
...and there's the perfect end to a Pittsburgh weekend. Although we didn't have enough time to visit the
Big Mac Museum
(more to read
here
) or this
giant space acorn
(which isn't even that close anyway), or go to
Eat'n Park
, I think a good time was had by all, and now my parents can see why I heart Pittsburgh so much. (Thanks for coming out, MaBa! ...and thank you to our gracious hosts :))